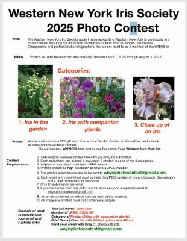 Western New York Iris Society
(WNYIS)
Serving Western New York and the Greater Buffalo Area
2022 Calendar
Meetings are held the first Sunday of every month at the
Reinstein Library, 1030 Losson Road, Cheektowaga, NY 14227
starting at 1:30 pm
MEETINGS ARE OPEN AND ALL ARE WELCOME
Contact Marilee Farry for up-to-date details.
January and February, 2022 - Winter Break - no meetings.
March 6, 2022 - WNYIS Meeting - 1:30 pm
Location: Reinstein Library, 1030 Losson Road, Cheektowaga, NY
Topic: 'Iris in the Wetlands' (Iris pseudacorus, Iris versicolor, Iris lavagata and Iris pseudata)

President: Marilee Farry
Vice President: Betty Schnellinger
Secretary: David Baehre
Treasurer: Annette Kuhn
There is no membership fee and anyone is welcome to attend our meetings.
WNYIS 'Iris Views' Newsletter